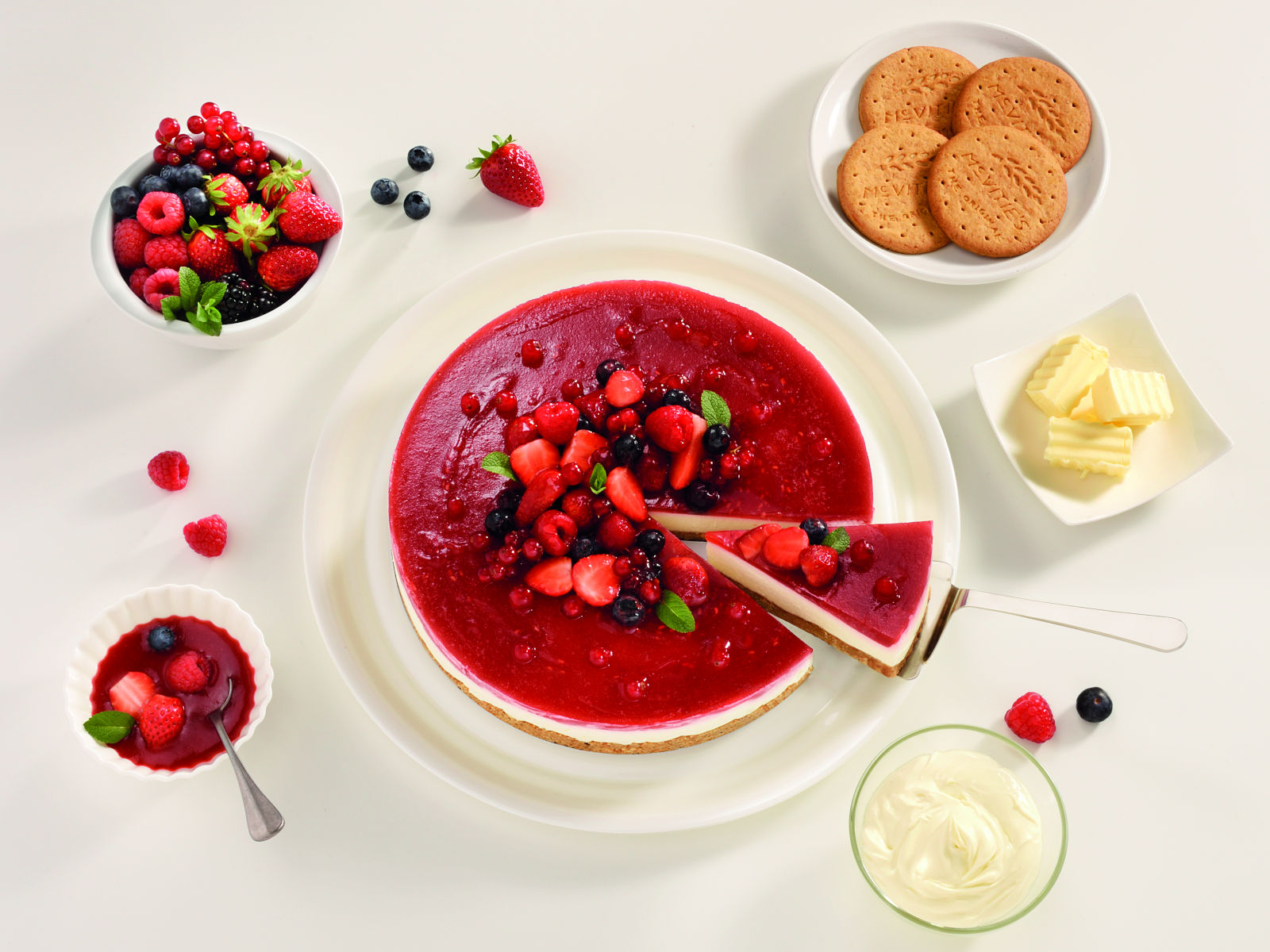 For the base:

250 g McVitie's Original Digestive biscuits
150 g butter
2 tablespoons of sugar
For the cream:
500 g spreadable cheese
10 g gelatin in sheets
150 g sugar
200 ml fresh cream
juice of ½ lemon
1 sachet of vanillin
For the coverage:
10 g gelatin in sheets
1 sachet of vanillin
icing sugar
strawberries or berries

1. Crumble the McVitie's Digestive Original biscuits in a bowl, add the sugar and melted butter and mix until smooth. Pour the mixture into a 22 cm springform mold creating a layer of uniform thickness. Place the mold in the fridge for at least 30 minutes.
2. In the meantime, dip 10 g of gelatin in cold water and separately put 50 g of cream in a saucepan, heating it over low heat. Squeeze the gelatin and add it to the cream, stirring until melted and finally let it cool. Separately, whip the remaining cream, sugar, vanilla and then add the cream cheese. Add the cream and gelatin mixture which has cooled in the meantime and the lemon juice. Mix everything until you get a thick cream and pour over the base, leveling it as much as possible.
3. To cover, dip 10 g of gelatin in cold water and once softened, squeeze them and add them to the strawberries (or berries) and icing sugar. Pour the gelatin mixture into a non-stick pan and heat until everything is perfectly blended. Remove from heat before boiling and allow to cool.
4. Pour the topping onto the base, spreading it evenly over the entire surface and place the cheesecake in the fridge for 5 hours.