Mini Strawberry Cheesecake in the jar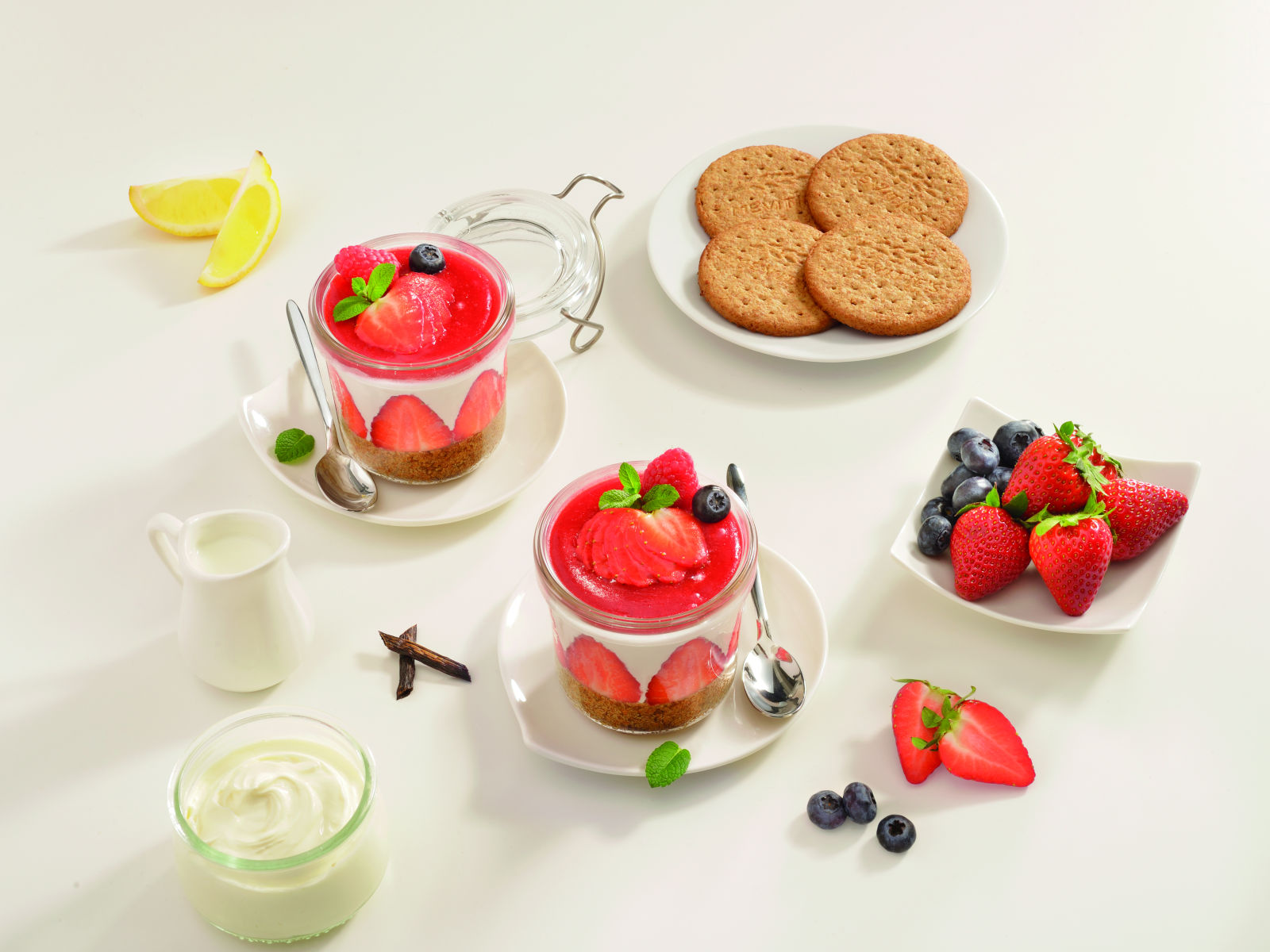 For the base:

100 g McVitie's Digestive Integral biscuits
65 g butter
For the cream:
250 g natural white yogurt
7 g gelatin in sheets
150 g strawberries
70 g fresh liquid cream
½ vanilla pod
35 g whole milk
30 g icing sugar
For coverage:
100 g strawberries
juice of ½ lemon
100 g icing sugar
10 g corn starch (cornstarch)
To garnish:
mint, blueberries, raspberries to taste

1. Finely chop the McVitie's Digestive Integral biscuits, add them to the melted butter and mix until a homogeneous mixture is obtained. Pour the biscuits into the jars and create a compact layer on the bottom with the help of a teaspoon on the back. Close the jars and place them in the refrigerator for 30 minutes.
2. Soak the gelatine sheets in cold water and allow to soften. Heat the milk in a saucepan and then add the well-squeezed gelatin, stirring until dissolved. Let it cool and in the meantime, extract the seeds of the vanilla bean. Whip the cream by adding the icing sugar and then the vanilla seeds; mix until a soft cream is obtained (the cream must not be whipped until stiff). In a bowl pour the plain yogurt and add the warm milk, stirring until the mixture is amalgamated; then add the semi-whipped cream and mix gently.
3. Remove the cans from the refrigerator; cut the strawberries into slices about 5 mm thick and arrange them inside the jars in a vertical position, gently squeezing them towards the glass (so the cream that will be added later will not cover them and will be visible on the outside of the glass). Then pour the cream into the jars and once finished, close the jars and place them in the refrigerator for at least 2 hours.
4. Prepare the coulis: cut the strawberries into small pieces, pour them into a non-stick pan together with the corn starch, lemon juice and icing sugar. Stir and cook for 10 minutes over low heat. Once the strawberries are ready, sift them into a bowl and leave to cool. Then pour the coulis into the jars and garnish with berries, a fan-sliced strawberry and a few mint leaves. The jars so ready, can be eaten immediately or put back in the fridge to have them later.