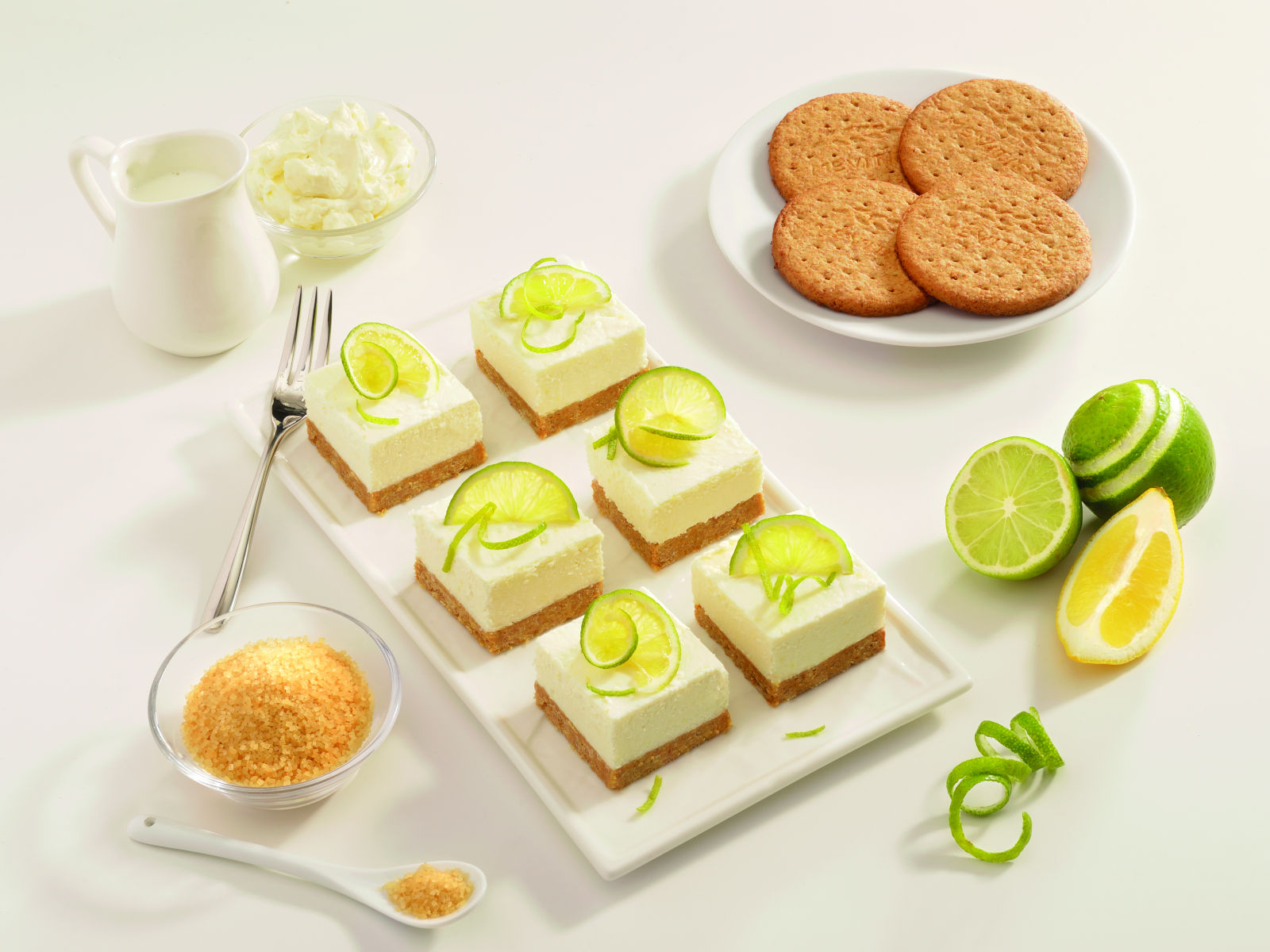 For the base:

150 g McVitie's Digestive Integral biscuits
80 g butter
2 tablespoons of brown sugar
For the cream:
250 g mascarpone
150 g ricotta
100 g fresh cream
100 g icing sugar
30 g lemon juice
2 lemons (grated zest)
10 g gelatin in sheets
To garnish:
1 lime

1. Finely chop the McVitie's Digestive Integral biscuits, place them in a bowl, add the melted butter and brown sugar and mix until the mixture is smooth.
2. Place a sheet of parchment paper on a baking sheet and place 8 square cutters with rather high edges on it. Line the molds internally with plastic wrap and put the mixture previously obtained at the bottom of each wheel by pressing with the back of a teaspoon. Refrigerate for 30 minutes.
3. Remove the mascarpone from the fridge and leave it for 15 minutes at room temperature. Meanwhile, soften the gelatin in cold water, squeeze it and then dissolve it in a saucepan over low heat. Put the ricotta, mascarpone, icing sugar in a bowl and mix, forming a smooth cream. In another bowl, whip the cream and then add the cream obtained previously, the juice and grated zest of the lemons and the gelatin which has cooled in the meantime.
4. Take the base from the refrigerator and place the cream inside it, leveling it as much as possible with a spatula and then put it back in the refrigerator for at least 4 hours. After the indicated time, put the mini lemon cheesecake on a serving dish and decorate each portion with a thin slice of lime.